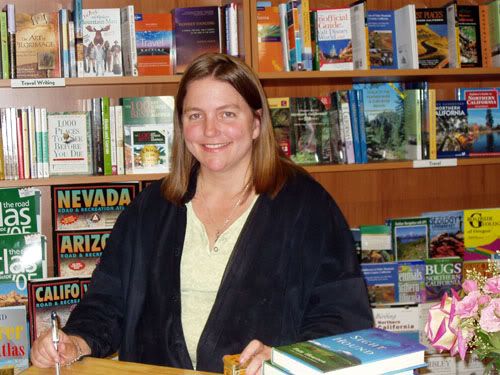 *****************

One of my favorite contemporary writers, Pam Houston, did a reading tonight at a locally owned bookstore in downtown Chico. She was promoting her new novel, Sight Hound.

Several years ago I read her best-selling book Cowboys Are My Weakness, a collection of stories about backpacking and trips into the wild with various boyfriends. It's a great read.

After she read selections from her new book she answered questions from the small audience of about ten people. Someone asked her to name some of her favorite books and writers. She said: Disgrace by J. M. Coetzee, Paradise by Toni Morrison, anything by Alice Munroe, Richard Ford (especially a short story called "Communist"), Russell Banks and Amy Hempel (but not her latest one).

Houston is currently the director of the Creative Writing Program at UC Davis. She described herself as "a writer of found objects" and talked a bit about how writers need to believe in their ability to "conjure reality." She told us about a four-day writers' conference that UC Davis is sponsoring in Marin County this fall. I would *die* to go but it costs $1250.00! Money needs to fuck off! (Or "Come to mama." I'm not sure which.)

After the talk, she signed copies of her new book and was kind enough to let me take her picture. I asked her if she's ever tempted to steal ideas from her students. She said no, but when they write a really great line she wishes she had written it.

I milled about in the bookstore for a bit and somehow began conversing with an old man in his late 70s. There was something really special about him. He was sharp and open and searching. I asked him if he writes and he said no. He said he had been in a shell his whole life and was just now beginning to come out. I wanted to say, "Me, too!" But I didn't. I wanted to ask him to go for a cup of coffee with me at the greasy spoon down the street but I didn't. I didn't, because I'm still trying to break out of my own shell, I guess. Something tells me that before I can believe in my ability to "conjure reality" I first need to muster the courage to participate in the reality unfolding all around me.