A long-lost friend in Ohio recently snail mailed me a copy of a new zine he just published. I wagged my head as I flipped through the photocopied pages, thinking to myself, "This poor fool is still making zines?!? Nobody does zines anymore. Why doesn't he just get a blog like everyone else?" I gave it a cursory skim then tossed it on a pile of old newspapers and settled into my default mode of irritated boredom while scrolling through a couple of social network sites on my phone to see if anyone had anything interesting and non-depressing to say.

They didn't.

I sighed and looked back at my friend's zine, and picked it up again.

Zines. Small, self-published little booklets on any specialized topic ranging from vegan punk rock feminists to obscure Russian saints. I used to make them too. I loved the smell of copy machine toner, glue sticks and sharpies. Damn. Those were the days. The 90's. Back when "Bush Out of My Bush" meant "George Herbert Walker Out of My Bush" and we aborted him before his second term. Back when I was so in love with the journey of a writer's life that I didn't give a rat's ass about the destination as long as I had my long-arm stapler with me.

Feeling nostalgic, I did a google image search for "zines" and came across this image of a flyer: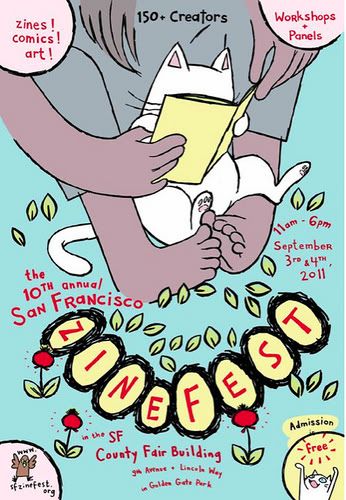 There's an annual zine festival in San Francisco?!? People are really still making zines?! Who are all these people and what are they writing about?!? I needed to know, so last weekend I drove down to Vallejo, jumped on a ferry and floated into San Francisco looking for answers.



Forty-five minutes later I wandered into the SF County Fair BLDG in Golden Gate Park and feasted my eyes on 104* zinesters peddling their wares.





The first exhibitor I wandered up to was Megan Quin, creator of the zine "Patron Saint of Screw-Ups." I have a thing for saints and screw-ups so I had to have this zine. Hours later when I was home and had spread out all my zine loot before me, "Patron Saint of Screw-Ups" was the first one I read. I loved it.




Quin writes from the perspective of a "spiritual wayfarer" about her travels to Christian punk music festivals and new age centers. She studied World Religions and works as a religion reporter for a newspaper in Boulder, Colorado. I completely identified with her story about different boyfriends who have tried to convert her to Christianity. Gurl, I have fallen for godbait boys, too. We should talk. Check out her blog.

My next stop was at Peter S. Conrad's table. He does comics and other unique creations. I'm not much of a comics gal, but I decided to step outside of my non-comics zone and see what I've been missing. I picked up a copy of his zine, "paperdummy." His illustrations and stories have a good detail-to-sparseness ratio that captured my attention. I loved his image of a giant spatula with a cityscape in the background and a caption below that read, "The Spatula of Liberty." Ha!




Peter was also selling his "Win Her Heart" scratch off Lottery Comic tickets. There are 15 squares on a ticket and the "player" scratches off one square from each column to reveal a story. I think he said there's a one in seven chance for a happy ending. I thought it was genius so I bought two. I just now scratched off the squares on one of my tickets and didn't get a happy ending.




I snapped the photo above at the "Strangest Story Ever Told" table. Do you see those Chick Christian propaganda Tracts: "This Was Your Life" and "Devil Doll?!?" I hadn't laid eyes on a Chick tract since I escaped from the hellhole known as the state of Indiana. Some people can laugh at them, but when you're on acid at a Grateful Dead show and you find one of these under your windshield wiper, it's not funny, man, it's spiritual terrorism!

The one on the bottom titled, "Who Will Be Eaten First?" is actually a parody of a Chick tract created by artist Howard Hallis. He wants his readers to know the glory of Cthulhu. I'm pretty sure that coming across this one while one on hallucinogenics would have messed me up, too.


Next up is Marcos Soriano's zine, "Map of Fog." I'm glad I bought all three issues because "Map of Fog" is my top pick of all the zines I acquired at the ZineFest. "Map of Fog" consists of interviews with seemingly random San Francisco residents who have compelling stories to share, Soriano's own personal narratives about living and working in San Francisco, tidbits about the Sunset district, and other pieces, all accompanied by B&W photography by Tara Donohoe.




What impresses me the most about Soriano's writing is the complete lack of pretension. His writing is straight forward, crisp, captivating and void of negativity, sarcasm, self-effacement and pomposity. In some small way, "Map of Fog" reminds me of The Sun Magazine.

I want to mention one more zinester, MariNaomi because she was super friendly and is a great storyteller/artist. I was really interested in her graphic memoir, Kiss & Tell: A Romantic Resume Ages 0 to 22 but I was pacing myself money-wise, so I opted for her "Not-so-Butch" zine instead.




"Not-so-Butch" is an illustrated story about deciding to ditch guys for while and see if the love of a woman can mend her broken heart. It's a good story, and she can turn a phrase with the best of them. Reading it made me regret not buying her Romantic Resume. Thank the goddess of Not-so-Butch lesbians I can get it from her website.


*There was an ENTIRE ROOM WITH AN ADDITIONAL 34 EXHIBITORS I COMPLETELY MISSED at this event. How in the hell this happened I have no idea, but this is definitely on my list of Top Ten Biggest Regrets in My Life. I'm super ticked but I'm going to work on getting over it....