It never rains in Chico in the summer. Except last Saturday when it rained very briefly. I was at a backyard bbq when fat drops plopped in the dust. We were talking about the floods in Iowa, the fires and drought in California when it happened. Someone said Mother Nature's pissed. I said, She's a Republican. Just look at the unequal distribution of resources.




The day I took the above photo, more than 1000 wildfires were sparked by dry lightning storms. One week later these fires are still burning. I am near the center of the thickest smoke seen in the photo below. The red squares indicate the biggest fires. I have monk-friends who live in the Shasta-Trinity wilderness. Their beloved monastery is in danger and they have evacuated, taking ancient icons and encased slivers of Saint's bones with them.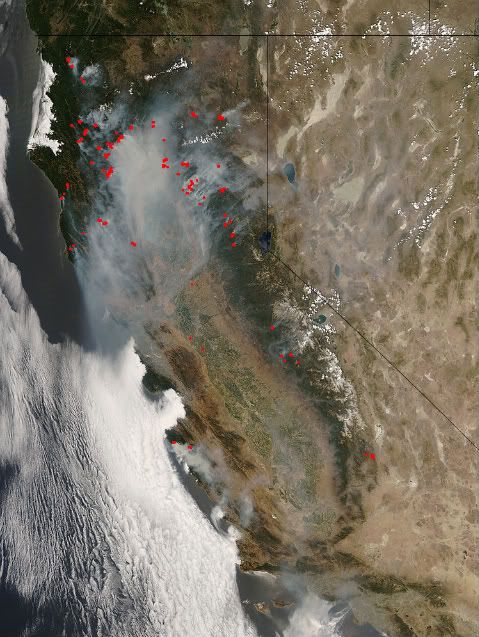 At night I pray to the same God who left a toddler locked in an apartment with his dead mother for seven days. I pray mercy, mercy, light. Something unseen prevents me from going too deep into the why of it all. Otherwise I would grab God by the throat and say, Today, you will be judged by the condemned. As it is, I lie low in patches of grace.